Full disclosure: I have never seen an episode of Gilmore Girls. I have never had the impulse to "watch" via plot summaries (my chosen approach for Game of Thrones) nor have I "tried and just couldn't get through it." I loved creator Amy Sherman-Palladino's follow-up show Bunheads (note to Sutton Foster if you're reading: Hey, Girl! You give me life and we're already BFFL in my head!). Gilmore Girls, though… I just missed the boat on that one.
I am surrounded by strong, brilliant, kind people who love the show to death, so when Netflix announced they were doing a follow-up limited run series, "A Year in the Life," I figured this was as good a time as any to jump in.
Huh. In Netflix's estimation, a show about strong women and the people in their lives has very, very little to do with, you know, actual photographic representations of women. Any women. Weird. They've since release updated art, but it's all still very strange for a newcomer to Stars Hollow. You've got an awesome show with rad women who talk (a lot). Why hide behind Milo Ventimiglia's mussed hair? Get. To. Them. Girls!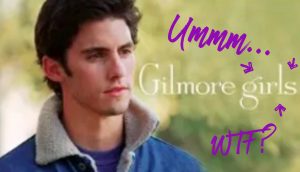 A small-scale marketing misfire "Naw, Dude," for sure, but a "Naw, Dude" nonetheless.