In the grand scheme of things, I've never really been "cool." This is true on all fronts: Professional (type-A since the womb), personal (serial monogamist-turned-engaged person), and stylistically (always Shirley Manson in my teenage head, too often a half-assed goth-y mess in application). Fashion, in particular, has been an area in which I have gravitated towards a constructed vintage style (because boobs) while looking over my shoulder longingly at the boho-chic girls Free People-ing to their hearts desire. I didn't want to be them, necessarily, I just wanted to be as comfortable in my skin as they seemed to be. I'm all effort. They're just… cool.
Putting aside the wealth of academic scholarship about what exactly constitutes "cool," it's hard to find a representation in film or on TV right now of a "cool girl" that you wouldn't also want to punch in the lensless acetate glasses. Go ahead, try searching for "cool girl" on iStock Photo or Shutterstock. I'll wait.
This is why I thank St. Rachel of Bloom for gifting the world Crazy Ex-Girlfriend's Heather Davis, a "cool" girl I can get behind.
Played with supreme over-it-ness by Vella Lovell and styled by Melina Root (who's interview with Racked about the costuming on the show is really worth a read), Heather rocks the brightly streaked, maybe-washed-but-who-knows-and-who-cares hair and style I always craved for myself. She's someone who shops at WHO CARES THAT'S DUMB. She is a student-ish, marginally employed, has grown to understand she *could* try more (and that's her struggle), and doesn't so much wear clothes as clothing finds it's way onto her body in sufficient quantity for the temperature outside.
Even when put in a position to "dress up," Heather serves "my Mom saw this hat on a Today Show segment and got me the closest thing they had at Macy's" realness.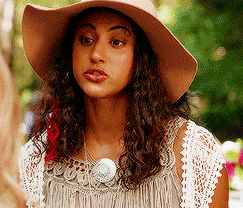 If this was me, five minutes after assembling this outfit that necklace would be irretrievably tangled in the lace trim of that shirt. THIS IS WHY I AM NOT COOL.
It took the better part of a super awkward adolescence for me to understand that a "cool" girl is someone who has found out how to balance wanting to project a certain image to the world with the labor required to actually pull that off. She looks the way she looks because that's how she looks. For me, in this world right now, Heather Davis is my cool girl. Thanks for being you, B.