We're embarking on a new frontier here on The Hot Goss: the Recap. And whether you love it, hate it, or are indifferent to it, America's Next Top Model has always held a weirdly special place in my heart. There's the failed attempt to watch My Fair Brady with Cycle 1 winner Adrienne Curry, being excited for the completely unnecessary Cycle17 "All-Star" cycle, and striking up a conversation with a woman in an elevator who I knew was Cycle 7's Melrose Bickerstaff but pretended otherwise because what am I doing watching this show? It's even gone so far as accepting the use of "cycle" instead of "season."
And when the finale of what was billed as the final cycle happened last year on my birthday, I thought I had finally come full circle and could lay this baby to rest.
However, as all things Tyra go, expect the unexpected.
CAUSE IT'S BACK!
When I heard, I yelled at my television. Yes, literally yelled and yes, I still own a television. But something was missing.
Tyra Banks would not be part of the newest cycle. Can I, a strangely devoted fan, watch without Ms. Banks at the helm?
As I tuned in last night with a glass of red wine and two bags of Pop Chips, I realized that I can. So here's that recap.
First of all, that opening city scape makes me homesick. So glad it's in New York! And so glad they opened with Marissa Hopkins talking about how her teen mom has made her a stronger gal (we learn more about that later). Way to be the opener Marissa!
Then we meet Justine Biticon who just graduated high school and is adorbs AF. A quick online search for photos also shows she can be fierce AF.
Redheaded Cherish Waters gives us our first quote of the night: "Sticks and Stones may break your bones but bitch, you don't even phase me." I HAVE MISSED THIS SHOW SO HARD.
And then Binta Dibba who strongly proclaims herself an activist who wants to make her people proud. Binta has my vote for top three from the get-go.
Also, kudos on the editing ANTM, following up the "bitch you don't phase me" girl with the activist.
The action moves to the venue with all the competing women in one place to give them all the worst heartache of the show so far: Tyra showing up in person just to tell everyone she ain't gonna be there no more. Cries and screams and cries. But before she leaves, she informs them she's not looking for a conventional model or an Instagram model, she's "looking for both" AND someone who embodies "beauty, business and badassery." Tyra, I will miss your made up verbiage.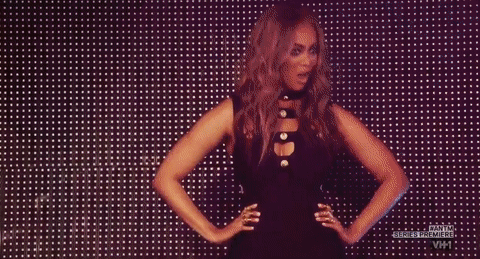 This segment also reminds me how MUCH SCREAMING THERE IS ON THIS SHOW.
Then we get some photos, which as a segment was pretty boring aside from learning that Tatiana Price has a line of body butters. Way to push your products girl. Gotta promote your shit.
And then we're on a HELIPAD. Of COURSE we are. Who cares about anyone's hair in that wind / when the helicopter lands. Oh, did you think you would be on a helipad without a helicopter landing on ANTM? Cause you'd be wrong.
We also meet identical twins which…can't end well.
The helicopter lands and who is in it but our new judges. We knew it would be Rita Ora cause promos. She proclaims she wants to show women to be " a 25 year old boss" like herself. Ok, Rita, you're wonderful, but you're not Tyra so I'm gonna need a minute.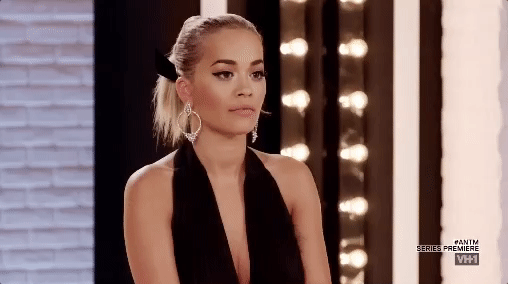 Next up is recent no thigh gap Barbie doll Ashley Graham. Nothing but love here.
Drew Elliott from Paper Magazine who proclaims "I'm not here to be your best friend." WHICH IS A THING CONTESTANTS SAY DREW! Not JUDGES. Welcome to Reality TV world.
Law Roach, celebrity stylist, who I knew very little about before but after this first meeting, I am willing to listen to.
And then the ball drops. GO-SEES on the FIRST EPISODE. For the uninitiated, Go-sees don't happen until the last few episodes and they are one of my two favorite episodes of every cycle (the second being makeovers obvi). This is revolutionary…by ANTM standards. Although they also once made the ladies walk the runway on fire so who the fuck knows.
We meet designer Phillip Plein who obviously is really excited to be on TV and keeps trying to coin douche-y sounding phrases, none of which I like and therefore won't repeat.
Then we meet LaQuan Smith and my heart grows three sizes.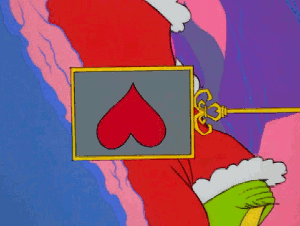 Not only does he say this beauty: "I want to be able to celebrate the woman's body…She walks into the room and she demands attention" but he also thinks Binta is the bomb. I heart you Mr. Smith.
Krislian Rodriguez comes on and makes me worry I won't like a Latina on the show talking about her brand. But then Justine comes on again, adorbs AF, and I forget.
Poor Starr talking about her shortness at 5'7″. She would've been a giant on the short cycle.
And the twins are back! I haven't learned your names yet. Sorry.
Then we get our first tease of a hook-up on the show NOT EVEN HALFWAY THROUGH THE EPISODE between Starr and Kyle McCoy. Oh the heartstrings. Someone's heart may be broken…and it may be mine. (Spoiler alert: Starr doesn't make it. Sigh.)
As the girls leave the extremely drama free go-sees, they get on the bus which is historically where truths are traded. And Quei did not miss a beat. She shits not only on the twins but also on Courtney Nelson's eyebrows.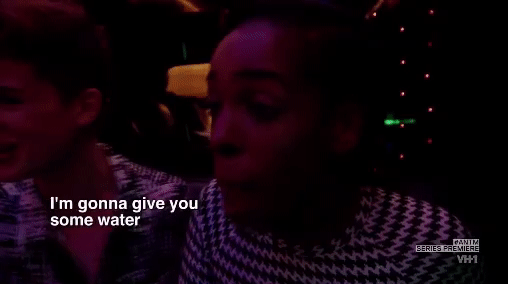 As a full browed gal myself who tweezed and waxed a bunch to thin that shit out, I am a fan Courtney. Ignore the haters. Those brows are fierce.
We come back from the commercial and get straight to judging. We revisit how awesome of a daughter Marissa is, are reminded how adorbs AF Justine is, hear Paige Mobley talk like a college application, learn Cory Anne Roberts is model royalty and find out that shit talking Quei is trans.
Right before commercial break, Courtney confronts Quei about the fight and right after the commercial THEY MAKE UP REAL QUICK AND EASY. Honestly, it's kind of nice two women can just talk out their issues with each other and come to an understanding so easily. Sorry editors.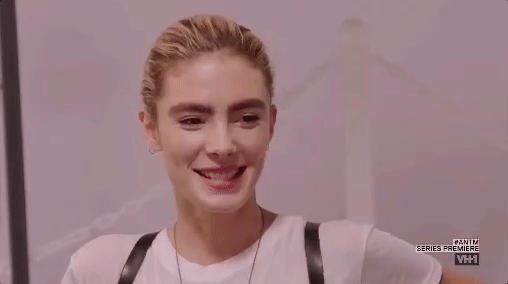 Binta! I love YOU and that DRESS! Ugh but that photo. Kinda boring. BUT I love you, don't worry girl. You're still in my top three.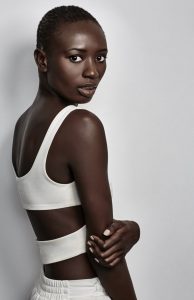 The twins are named Cody and Tash! Just for future reference.
Oh no. Rita said they need a girl who has the three B's "Business, boss and brand" IT'S BEAUTY, BUSINESS AND BADASSARY RITA! DID YOU NOT LISTEN TO TYRA IN THE BEGINNING. Your three words are actual words. That's NOT how ANTM works!
I'd go over the prizes but who cares. Let's talk about the bouncer that had to hold a guest list for a fake party. Poor guy is probably a down-on-his-luck actor who's promoted the shit out of this appearance on Facebook this week.
And then the cuts. We get an emotional breakdown from Starr (she really wanted that Kyle booty), Quei kinda proving they don't want ladies to get along, and Arreyon's ponytail.
But Justine is in and she's still adorbs AF.
My week 1 call for top three: Binta, Courtney, and third is a toughie! I'm between Cherish, Cory Anne or one of the twins (dunno which one but I know that is DRAMA).