In 1967, the Boston Marathon was a "men only" race because ladies didn't know how to put one foot in-front-of the other quickly back then. But Kathrine Switzer was like "fuck that" and registered for the marathon. Since organizers assumes a runner's gender based off names, her use of her initials K.V. (because of the unique spelling of Kathrine that she was tired of explaining) got her a spot. She says she didn't intend to break the barrier this way but she did so YAY!
So Kathrine shows up, in lipstick and earrings, ready to run, And then this happens:
That's Switzer being chased by Jock Semple (yea, Jock), the race director who is attempting to rip off her numbers. Oh, Jock.
Make It Official
Switzer wasn't the first woman to run the marathon; in 1966 Bobbi Gibb ran alongside the men without a numbered bib. Apparently this was fine since she wouldn't actually be recorded. Gotta love the dumb ass standard.
But Kathrine was running like ONE OF THE RUNNERS. ONE OF THE OFFICIAL RUNNERS. Semple was so mad, he ran out in his leather shoes and tried to literally rip those numbers right off her sweatshirt. Leather shoes are not optimal running shoes FYI.
Switzer was running next to her supportive boyfriend, "Big Tom" Miller, who helped shove him off. This guy: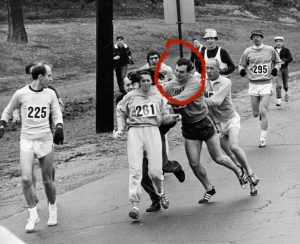 Go Tom.
Keep Running
Switzer finished the race, as did Gibb that year, but women weren't allowed to officially run until 1972, 5 years after Switzer and 6 after Gibb.
Gibb and Switzer were both on hand at the marathon this year. Gibb was a Grand Marshal of the marathon and Switzer finished the marathon again at 70 years old, wearing her number 261.
So today, we celebrate these women, and the men that stood by them, and know that we can continue moving forward. I wish I could say this inspired me to start training for a marathon but…
I "marathoned" Big Little Lies. Does that count?
Cover Image: Elise Amendola/AP