Another Tuesday, another ANTM recap.
On the last episode,
Ms. Courtney Eyebrows won best photo. And upon returning to the house, the first compliment she gets from the other girls is "You look so thin." WHY? Why is this the first thing? Don't gotta be thin to be fierce.
Anyway, Courtney is well aware the other girls don't like her. She's not "causing good vibes in the house." Yeah. Also Tash thinks you're evil.
Krislian laments, again, how the judges think she's too sexy. You are! But don't go dressing like a boy! Be you. Whatever that is. But keep dem bangs. They look fierce.
Cory Anne (her mom was a supermodel) misses her family and friends in LA apparently remembering this because she's gonna miss a Drake/Future concert. Priorities. At least she likes her new hair. ALL of it.
Quick trip to the Rimmel Room cause Rimmel must've been like "It's episode 4 and there hasn't been nearly enough Rimmel." They even had poor Tatiana say that awful line about going in everyday. "MAKE SURE A CONTESTANT HAS A CONFESSIONAL ABOUT US TOO! RIMMEL ROOM RIMMEL ROOM." (which backwards does not spell murder no matter how hard I tried).
Ugh Ritalert
I mean, seriously, she looks so bored.
Apparently, she's trying for a play on the phrase with this one. "Don't be a follower, let them follow you." What a terrible social media line. Jeez.
Poor Giah doesn't have enough followers.
We also get the idea that an editorial only reaches "x" amount of people but photos online reach the world. So. Damn. I guess I should take down that photo of me in my Xmas PJs.
DJ Khaled
DJ Khaled gets introduced, followed by so much screaming. So. Much. Screaming.
Then DJ Khaled drops some truth bombs.
"Social media is a big thing because we're in control of it."
(until it spirals out of your control.)
"I like taking pictures with the sun hittin' me. You know what I'm sayin'? And I put a message 'The sun is shining on me.'"
Cause observation.
Social Media Challenge
The ladies are put in teams of two to model Tezenis Lingerie. And Rita ALMOST had a Tyra moment. Almost. Because she's not just a model for it, she designs for it and it's one of the biggest brands overseas.
Anyway, Snapchat. They get ten seconds to spread…some message. Ten seconds!
"To be a superstar you have to be a superstar."
Thank you DJ Khaled.
The ladies go to the mean streets of NYC in lingerie. Paige is all "walking around NYC with nothing but lingerie on is fun." But it's not fun if you don't have a production crew walking around with you cause NYC streets like to catcall. I will admit her Snap was slick and she looked great. So nice work Paige.
Cody, her partner, got a good message but a boring delivery.
Oh SNAP! (pun intended) The producers put Binta and Court together. Good. Job. And of course Court's all "This might not be the right app." What?? How old are you?? Also, if you don't know what you're doing, just give Binta the phone! Don't be an ass.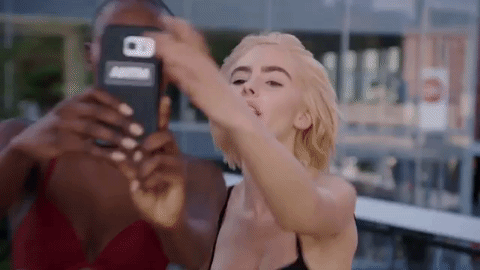 Binta, of course, awesome as usual.
Courtney finally calms her shit and delivers a good message but WTF Court. Be a human being K? Be grateful Binta helped you out after all that.
India, so boring. Glad you got that purple hair.
Cory walking on the highline finally breaks down the difference between NY and LA: "In LA, you only have to be cute to be invited to fun things. But in NY, you have to talk to people and make an impression." OH! That…makes sense…
Kyyyyyyyyle, the silent threattttttt, kills iiiiiiiiiit.
Krislian – ugh – I kinda just want you to own sexy but I get it. They don't and you want to win. You'll get it.
And the winner of the challenge is COURT! Ha! I love the reaction girl but I am with Binta on this. There's a lot of not you that went into winning this challenge. Also, you made Binta cry! Stop it.
Limo Ride
Binta follows up an announcement about an ice cream party with "I want to pause everyone." I am stealing this phrase because it is perfect.
Binta gives it to Court for being inauthentic and then says she's gonna kill it on the next photoshoot. Giving a full hearted "I did everything for you." Which, Court, you didn't even wanna be in Binta's video but after all your bitchin' Binta woman'd up and stood in yours. So think on that.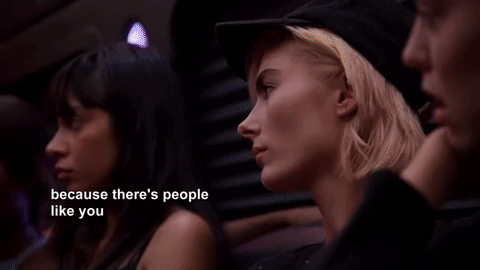 Back at the House
Binta is just not believing anything genuine is coming out of Courtney's mouth. Probs true. Karma is brought up and Tash is all "You know how you're gonna look on TV so good luck with that." But who even still watches this show…
And then Courtney brings it back to karma. Everyone calling out karma! It'd be better if Karma was another contestant.
Paige wants to stay focused, she's not here to make friends. Wait. That's Drew, the judge.
This was all the most ANTM argument with no contestants making up.
And then COURTNEY FELL DOWN THE STAIRS THE NEXT MORNING! She FELL down the STAIRS! Did Karma push her? Then Giah says she fell down the stairs twice. What are these stairs? Are they covered in some sort of grease or something?
So Courtney's hurt. Kind of. Or maybe she's faking it. Who knows.
Drew shows up at the house with editorial director Mickey Boardman and Cory is forced to make a fake ass confessional. "When he's in sight, I'm like wow." Sho sho sho.
Paper Mag Sexy VIP Party
Literally what they called it.
The contestants have to take Instagram pictures at the party and then choose three to tell a story. Cory's all "If you go home at panel, it's completely your fault" which is not true 'cause sometime panel be cray.
Oh and there's a rack of dresses for 12 models to choose from which can't go wrong – nope there it is. Courtney snatched a dress from Cody. According to Cody. Not according to Court of course. But also, did they call dresses? And Court, that dress would look better on Cody. Sorry boo.
Ugh, Ritalert
Someone give Rita a red bull before she does these please.
Rita sends over Jasmine Sanders ("Golden Barbie") and of course Krislian already follows her on social media. But side note: I actually learned some social media stuff when she was talking. So follow me. I'll interact with you in my replies.
Oh no. India's dress doesn't fit. And Kris does right not to switch with her cause they for sure will say her dress is too sexy. But as far as dresses go, it's way more fun that Courtney's dress doesn't fit because OF COURSE it doesn't fit. Duh.
At the bar, they all get into character for their stories. Paige and Tash titled theirs. And Court yelled out loud as hell in the bar (Duh.) when she decides to lay on the floor for a photo. Krislian tries her hardest to be editorial, not sexy, but she still looks sexy. Back at the house India's all dejected that they could be sent home off an Instagram photo. Yup. Cause ANTM.
Panel
Well, one pan shot of Rita for no good reason but at least it was only one. They had been doing so well with none but ok. Also thumbs up to her hair! Love.
Paige! You killed it! All this is gorge. Giah still looks like a singer but she rocks it. Binta is Binta is Binta – so posh.
And then Court. AND THEN DREW CALLING OUT COURT! She's a complainer! Oh. Man. Judge smack down. But she does take a great photo. Such a tough spot to be in. Sigh.
India has a bunch of group shots which are basic and isn't what they wanted but it's the first time she seems like fun to me!
Oh Kyle. Don't worry about them. You're great.
And then Krislian. KRISLIAN! You found your STRENGTH! Clap clap clap. You shut the judges UP! Fab fab.
Law doesn't think Cory wants to be a model and honestly, I agree. But but but her mom was one. Isn't that enough? Sigh.
Best Photo: KRISLIAN GIRL YAAAAS from bottom two to best photo.
Bottow Two: Cory Anne and Tash. And they nixed Tash. Oh no. Tash. TASH! Cody's gonna have to fend for herself on her lonesome. But Tash did give such a sweet exit interview. You shall be missed Tash.
Top Three Prediction: Binta, Courtney and I gotta change up Cody with Paige this week. She's moving up.
Next Week: Kyle gets some episode time and a photo shoot in a grocery store.