Of course you know all about Elizabeth Taylor's movies, husbands, activism and her bizarre friendship with Michael Jackson. But you probably didn't know that she saved someone's life?
Elizabeth Taylor was friends to many. She was a great friend to have. Loyal and loving to a fault and for Montgomery Clift, this friendship was life saving, literally.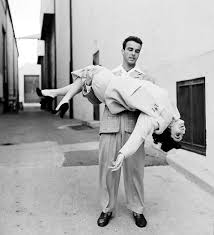 Montgomery Cliff was a handsome dude. He also happened to be best friends with Elizabeth Taylor. However, there are some rumors that the two were more than friends. Rumor has it that the two were lovers and that Taylor would send Monty, what she lovingly called him, love letters. Wether that's true or not, fact is these two were extremely close.
On May 12th 1956, Montgomery Clift was a guest of Elizabeth's at a dinner party. After having too much to drink Clift drove home and crashed into a telephone pole on his way home.
The lucky part about this crash was that, his friend Kevin McCarthy was driving in front of him. He raced the Monty's car, saw how badly injured Clift was. In fact, McCarthy thought that Monty was dead. McCarthy drove back to the party and told Elizabeth what he had seen. After hearing the news, Liz and her husband Michael Wilding got into their car and drove to him. Rock Hudson and his wife, who were also at the party, joined them.
Legend has it, that Hudson pulled Montgomery out of the car. And while he laid on the ground Elizabeth cradled her friend in her arms. While she was holding him, Montgomery began to choke. Elizabeth noticed that he was chocking on two teeth that had been knocked out of place during the accident. To save her friend, she pulled the teeth out of his throat, with her own hands.
Girl. That is love!
Montgomery survived but his road to recovery was not easy. His face was disfigured from the crash, which hurt his career. He became more and more addicted to pills and alcohol. He kept working, but he was increasingly more difficult to work with. In 1959, Elizabeth Taylor used her power to have Clift cast in Suddenly Last Summer. He was almost fired from that film because of his behavior, but again Taylor came to his rescue.
The friendship between Taylor and Clift, saved his life. When everyone wanted to give up on Monty, Elizabeth wouldn't. She stood by him, like a true friend would.
So, while you are having brunch with your friends – cheer to them and let the know, that if it comes down to it, if they are choking you'll pull their teeth out of their throat. Because that ladies, is what friendship is all about.