Four days into Trump's presidency and I found that I already need a break. So, I turned to the world of tennis for an escape. A joke I like to make is, if my parents loved me more, I'd be a professional tennis player. But then I see people like Serena Williams play and I know that I couldn't even be her ball girl.
Professional tennis player Serena Williams is one of the greatest of all time, or a GOAT. Sure you know who Serena is, but unless you are a die hard tennis fan, like myself, you may not truly understand her accomplishments.
First of all…
Serena became a professional tennis player when she was 14 years old. She's been a professional athlete for over TWENTY TWO YEARS.
As of right now her career record, for singles, is 775-129. Thats an 85.73% win rate – that's even higher than the president's approval rating.
She is tied at #1 for most Grand Slam titles, 22. And as you read this she is well on her way to earning her 23rd title, if she wins this Australian Open.
Oh and she has 4 gold medals.
So why…
When we talk about other GOAT athletes, why is Serena's name low on the list or not on it at all? Hmmmmmm…. okay, I'm thinking….Gee, what could it be??
(25 min later)
I FIGURED IT OUT!!! She's a woman! Not only a woman, but a black woman, playing a traditionally white sport.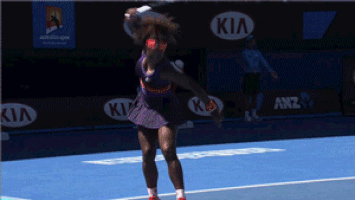 When you think of athletes, you automatically think of people like Kobe Bryant. Kobe became a professional basketball player when he was 18 and retired in 2016 after 20 years in the NBA. He has 5 NBA titles and two Olympic gold medals.
All of that is impressive, but not as impressive as your girl.
Oh also, Kobe was accused of rape.
Game, Set, Nah Dude.
A black female athlete spends basically her entire life mastering and dominating a sport, and she doesn't get much to show for it. Sure she does have A LOT OF MONEY, fame a lot of trophies that I would kill for. She is considered, "great for a girl."
But a male athlete who's accused of rape, is known world wide. Given endorsement deals. Men, women, kids all wear his number with pride and when he retires, Los Angeles declares that day is Kobe Bryant day.
Nope.
Fuck that noise.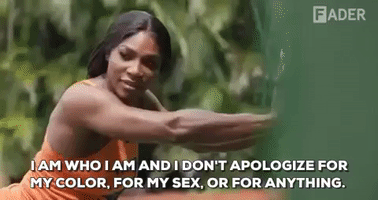 Serena Williams is The Greatest Of All Time.
Not for a black woman. Not for a woman. For an athlete.